We're presented with yet another feature advancement with Google search. Are we digital marketers and SEOers in Thailand ready for Google Web Stories?
And if you're wondering what exactly is Google Web Stories and how it may impact your SEO (search engine optimization) efforts, read on, we got you covered here.
What is Google Web Stories?
First off, Google Web Stories is available as a WordPress plugin. Back in 2018, Google included a feature to the AMP module that allows content creators to publish their content in the form of web stories.
Today it is known simply as Web Stories. In order for any website to be suitable for Google Web Stories, it must follow the Google's New Content Guidelines.
How it looks in practice.
What Does It Have to do With SEO?
There are 2 main items we explore here.
Firstly, does Google Web Stories help with SEO?
Yes, if we're talking about organic traffic. The stories format is quickly becoming more and more popular with users becoming familiar with it, due to the various platforms that has this feature such as Facebook and Instagram. So we can safely assume that when the stories format gets featured on Google search results, we may see higher organic click-through rates.
In terms of whether setting Google Web Stories itself would help with ranking better for certain keywords, it's more likely these 2 are considered independent topics. On the contrary, there is the discussion about SEO 'for' Google Web Stories, because the feature itself comes with metadata for web masters to configure.
So instead of asking would Google Web Stories help with keyword rankings, the question should be, how do you do SEO for Google Web Stories.
The Pros and Cons of Implementing Google Web Stories
The first and most obvious benefits of implementing Google Web Stories, is the fact that it is optimised for mobile, showing full screen snack-able content that loads fast as well. Let's list out some of the benefits of setting up Google Web Stories:
Optimized for mobile users
Visually appealing content that are very easy to create
Visual storytelling for your search results
More content for Google Image search
Web stories may show up in the Google Image search vertical as well
Part of open web content – able to share across sites and the whole online ecosystem
Supports story ads and affiliate links
And some of the cons of implementing Google Web Stories that we can think of at this time:
Yet another tool, another Google feature to add to the learning curve
And once we get a hold of how to use it, will it change again?
Technical set-up is required
New ROI measurement and traffic reports to setup
How to Implement Google Web Stories
If your website is created using WordPress, the good news is there's an official Google plug-in that you can install, handle and manage the creation of stories all on WordPress.
And installation is very straight-forward.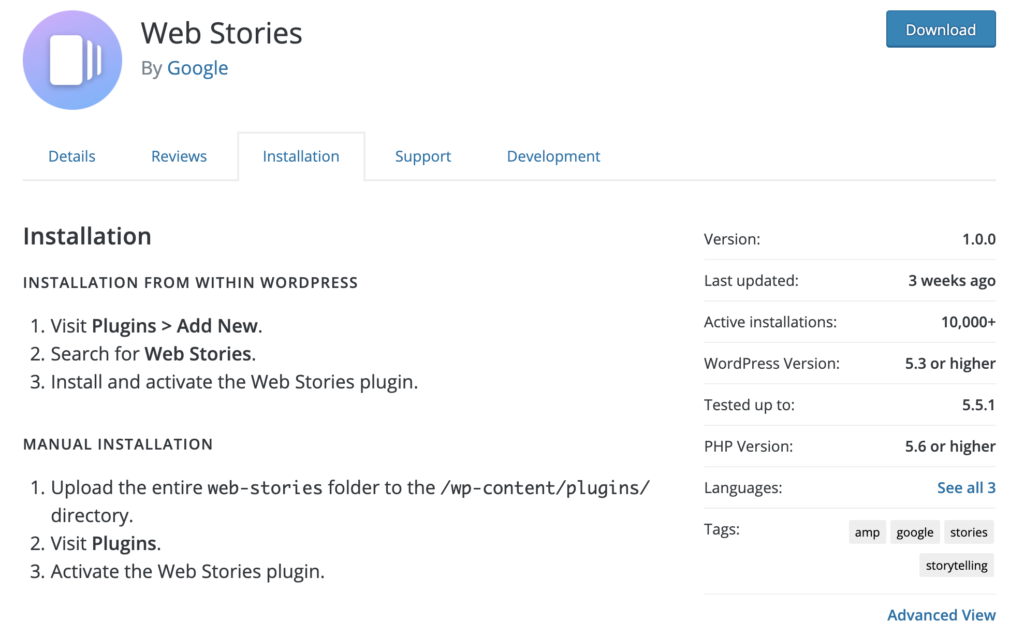 There are 2 main options for setting up Google Web Stories, either via WordPress Plugin or custom development. Have a read through here: https://stories.google/create/
Are there any pre-requisites? Yes. Google has an official checklist here:
And some more important read here, on metadata set-up:
And there you go. Google Web Stories in a nutshell: What exactly is it, the benefits and disadvantages of implementing and how to set it up.
For more information, questions and recommendations whether or not to set-up and how best to go about it, feel free to contact us.
E: digital@enablerspace.com | T: (+66) 2 297 0289