We're pass halfway through 2017 at the time this post was written. Are you starting to see the results of the digital marketing plan you rolled out earlier this year? If not, are you wondering if there were any flaws in your plan? Perhaps not, and maybe there's been fluctuations in how the digital marketing sphere played out in Asia and Thailand. Let's take a quick tour on some data insights and statistics on the digital marketing ecosystem in the region.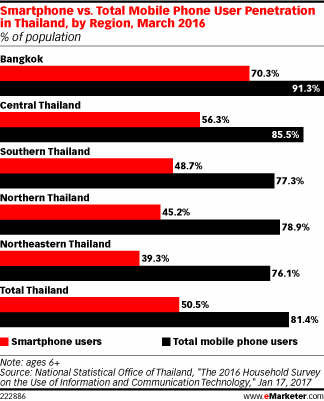 At the beginning of the year, the National Statistical Office of Thailand released some research data that showed more than 90% of internet users go online via smartphones in Thailand. A breakdown by from a survey conducted by eMarketer in 2016 shows that the highest use of smartphone to browse the internet happen in Bangkok at 70.3% in contrast to the low 39.3% in the Northeastern region.
On the social media front, data from Social Bakers Report on Thailand in January 2017 versus July 2017 shows minor but possibly significant changes on how users engage with brands on Facebook.
January 2017
July 2017
Accordingly, the Bangkok Post, published an article on the growth of social media in Thailand as of May 2017, showing strong and rapid growth.
In terms of digital marketing growth and transformation in the region, a research/poll by Ogilvy in April 2017 shows that 63% of brands are undergoing digital transformation in APAC. With the top 4 strategic outcomes expected shared by respondents as follows:
extending reach to new audiences
increasing relevance and engagement with consumers
transforming the way value is delivered to consumers
increasing consumer satisfaction
This chart shows what the respondents sought for from their marketing transformation. Consequently, Thailand is a social media powerhouse with research showing that the country potentially remains in the top 10 when it comes to number of active users.