How do you usually go about Adwords optimization? The standard steps as follows presumable: Campaign settings? Done. Adgroup setup with keywords and ad copy? Done. The basics are all in place which means you can sit back and wait for the revenue to pour in right? Apparently, no. At this stage, you're actually around 10% done.
Adwords is a powerful advertising tool and Google's audience is humongous. Nevertheless, to think that all it takes to earn revenue online is to understand how to use the Adwords tool, is a huge mistake. There are multitude of features and functions you can use on Adwords, but it really is up to the advertiser how they leverage these features to continuously improve their ad performance.
Let's take a look at 5 powerful Adwords techniques that are perhaps underutilized.
1 – DYNAMIC KEYWORD INSERTION
It goes without saying that the ad copy is probably one of the most important elements of any campaign. An effective ad will drive lots of clicks and potential conversions while a flimsy ad will probably yield measly number of clicks.
Stale ads, vague and generic ads, or inaccurate ads can significantly lower the potential performance of your campaign. What's the point of putting in hours of keyword research and building effective landing pages, if it all burns down to a couple of clicks due to ad text issues.
Here's where Dynamic Keyword Insertion comes in, for creating customizable ads in real-time and here's a quick example of how it works. Pretty much all advertisers know the rule of thumb to increase quality score; which is to create ads that match keywords added to the adgroup. The downside is, if you want to maximize quality score at scale for enterprise websites, it's tedious work and can be quite a pain. Using dynamic keyword insertion, you can actually create a placeholder for keywords to show up dynamically in the ad based on the user's search term.
This is how it looks and how it's set-up.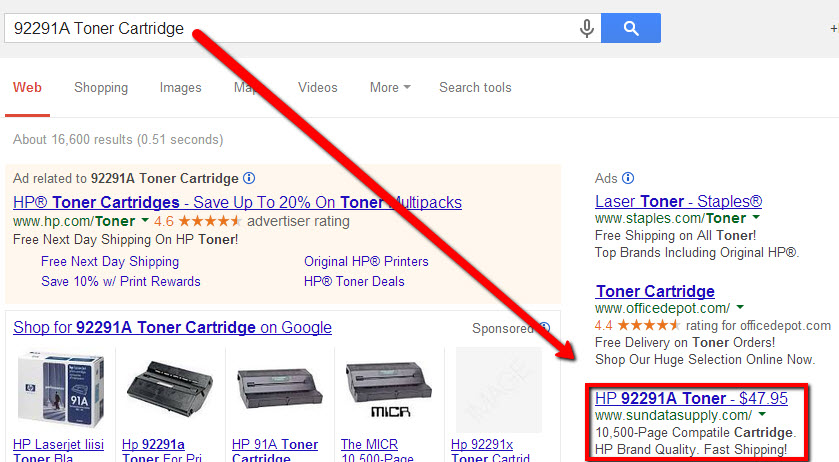 Besides keyword insertion, you can also dynamically update location and set certain rules for Google Adwords to show promotion ads when you have them running. Not only is dynamic insertion a great way to boost your ad performance and quality score, but it also saves you heap loads of time from doing the copy-paste work. Your time is better spent on creatively coming up with new campaign strategies and mapping the customer journey.
2 – BLOCK COMPETITOR IP
Pay-per-click is a very competitive field. If you know who your competitors are, and what their IPs are, you can block them from exhausting and burning out your advertising budget. You can do this from your Campaign Setting page, under the IP Exclusion Tab. You can block up to 500 IPs.
A bigger problem may arise if you're in fact targeted by click fraud; basically false clicks by ill-wishers to exhaust your budget. In this case, there is no way you are going to achieve return-on-investment from your spending.
If you have access to your server logs, you can take a look to see if there are any unusually spike for certain IPs. If you don't have access or you are not confident with your server-related knowledge, you can do preliminary check by looking for patterns in your Adwords account.
You would be looking for unusual spikes in impression and/or clicks, accompanied by no change in the number of conversions. Also, take a look at any unusual increase in bounce rate that is unrelated to any landing page or ad text A/B testing.
3 – SPY INTO WHAT YOUR COMPETITORS ARE UP TO
Looking into the Auction Insights report from your Adwords account is potentially the most accurate way to sneak peak into what your competitors are up to. You can do this via other tools such as Ahrefs, incase you want to verify the data that you're looking at against a third party tool.
The downside is that you are not yet able to drill-down into the data to see trends overtime or do fancy data comparisons, such as how your campaign performance correlates with changes your competitors made.
However, if you're really into data analytics and want to drill-down for insights, you can consider using extended tools and scripts for additional Adwords competitor insights such as this one by BrainLabsDigital.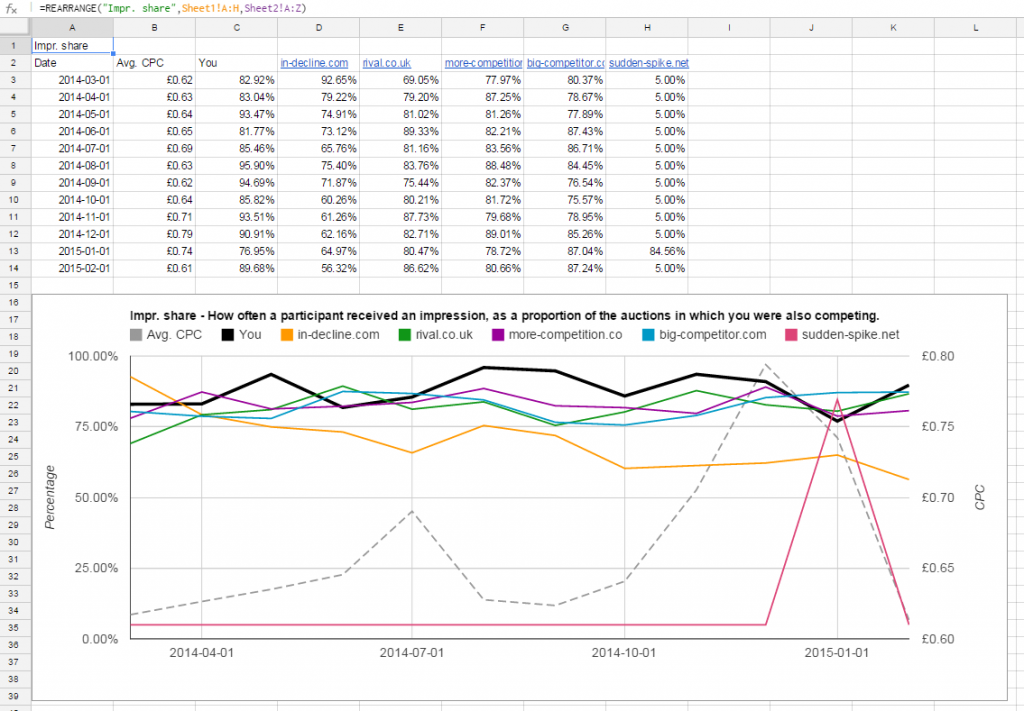 4 – THE CLASSIC COUNTDOWN TIMER
A simple, yet often overlooked Adwords optimization technique: the ultimate call-to-action ad that automatically updates itself. Use this type of ad with remarketing campaign (RLSA) and you got yourself a neat way to get your audience into a loop with increasing sense of urgency.
How it looks:
How to set it up:
If you're new to Remarketing List for Search Ads (RLSA) type of campaign, you might want to first test how it works. A quick intro: RLSA makes it possible for advertisers to target people who have visited your site before (suggesting higher intention to buy) with customized ads on Google and search partner sites.
5 – EVALUATE ASSISTED CONVERSIONS
Many times when running pay-per-click ads, we automatically review the performance data based on 'last click' attribution. This can in fact be a blind spot. If your ultimate goal for running ads is conversion (aka revenue and actual check-outs), there might be winning keywords that support those conversion.
If you're evaluating your keywords only based on 'last click', you may decide to pause these keywords and then wonder, why your conversions are dropping instead of picking up.
Take the time to change perspective to see 'Assisted Conversion' data before you pause, delete or negative keywords in bulks. Consequently, you may want to increase bids and improve ads for this set of keywords to ramp up even more conversions.
You can do this by adding more columns to the campaign view. You'll find 'Assisted Conversions' under the 'Search Funnel' menu.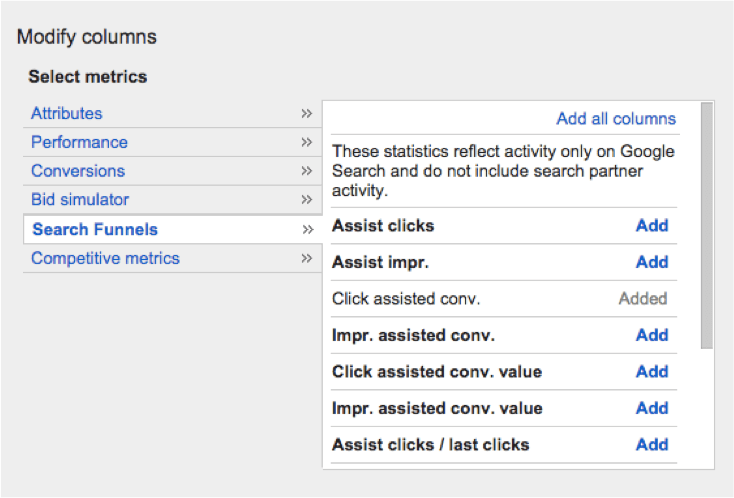 IT'S A WRAP!
And there you go! 5 powerful and potentially under-utilized ways to ramp up your Adwords campaign performance. Should you want to learn more about Adwords, we have small group discussion and knowledge sharing every once in awhile in Bangkok Thailand. Feel free to contact any one of our Digital Enablers to learn more about our next meet-up session.