One important part of doing SEO right is having your meta tags and other SEO tags set-up. This is essentially one of the very first things you should be doing. Consequently, there's always that question of, but how many tags are there and which tags should you be setting up.
Well, there's a vast number of SEO tags out there. Especially if you consider schema tags as well.
There are however, 5 basic but vital SEO tags that you simply cannot go without.
1 – Title Tag
A well optimized title tag is concise yet descriptive. Most importantly, a well written title tag increases the organic CTR (click through rate).

2 – Description Tag
A well optimized tag is unique, descriptive and may include CTA (call-to-action) phrases.
3 – Heading Tags (H1 – H6)
Use of heading tags signals well organized, easy to understand chunk of content. And makes it easier for search spiders to do their job.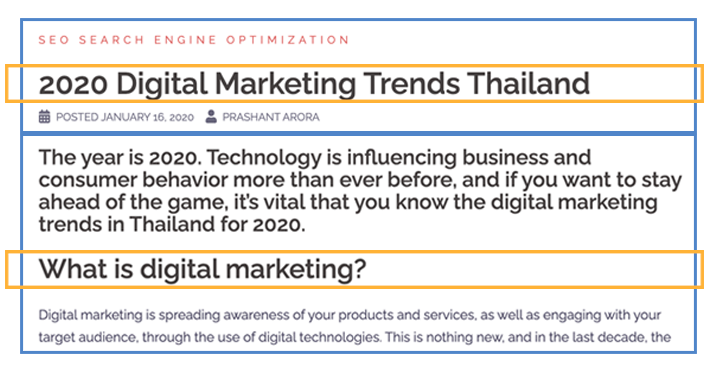 < h1>2020 Digital Marketing Trends Thailand< /h1>
< h2> What is digital marketing?< /h2>
4 – Image Alt Tag
In the case the image doesn't load, the webpage will show the image alt tag instead. A descriptive alt tag helps search engines to better understand images.
5 – Canonical Tag
The canonical tag doesn't show up on the webpage. It acts as a pointer to guide search engines to the original web content when 2 or more webpage content on the same website are (near) identical. To avoid duplicate content issues.
To learn more about meta tags and SEO tags, feel free to contact us.
E: digital@enablerspace.com
T: (+66) 2 297 0289