And I'm back with some terms that the non-digital marketer might not know. Pillar-cluster content makes me picture Greco-Roman architecture, which is pretty cool but not what we're here for. We're here to talk about a form of content marketing strategy.
What is Pillar-Cluster Content Marketing Strategy?
Simply put, pillar content refers to a broad overview of a specific topic. It's a content strategy specifically designed to not only provide value for the user, but also to rank well in search engines. Let's use one of the best things out there as an example, food! There are so many different types! Thai, Italian, Indian, Japanese, the list goes on. It's a broad category. On your website you build pillar pages for each of your major focus areas.
Now then, linking into your pillar content is a whole wide range of content that covers more specific subtopics, which we call cluster content. Put them together and you get your pillar-cluster content strategy! You can put two and two together to understand that each cluster topic page provides more detail for your pillar page. The pillar links to each cluster page and vice-versa using the same hyperlinked keyword. So imagining architecture wasn't that far off! It's just not physical, it's a form of information architecture. If you're still confused – about the pillars and clusters – here's a great illustration of the concept below.
Why You Should Care About This
First, it's more efficient and has been proven to boost organic growth! So if you are looking for ways to increase your traffic by growing your content strategy in a structured and scalable way – this is something that will definitely be useful.

Second of all – having a solid information infrastructure is of the utmost importance for ranking well in organic searches, particularly if it's a broad topic. That's why you should create focused content clusters around a specific pillar topic.

Also – it'll help create a collection of content that your audience may want to explore or drill down on for more details. With diverse content on a specific topic – it'll also likely give your group of target audience more things to hoot about.

All this – adds up to better efficiency in search marketing and it'll help you avoid creating repetitive content. See! Beneficial from either end.
So How Do I start?
If you haven't already – instead of diving straight into the writing phase – take a step back and revisit the planning phase. Make sure you have a good content calendar that's planned out ahead so you can integrate the pillar-cluster topics. SEO is always evolving and our approach to it needs to as well. Here are a few things you can do to keep ahead of it:
Choose a Pillar topic: Brainstorm and pick topics around which you'll build your topic clusters. They should be something that involves your products and services. The idea is to make sure that your content supports and is related to your business.
Keyword Research: Decide on subtopics that will fit in as clusters. They'll support the pillar topics and be related to each other in some way, depending on the pillar. One way to find a cluster topic is to simply search for them on Google. A really easy way to do this is to use question words like what, when, why, and how before the topic. Google will regurgitate a large amount of recommendations.
Write. Yes, Write the cluster pages: You've got your topics, you've got our keywords, it's time to create! Go deep when you're writing this content. A page optimized for SEO will include the keyword in the title, tags, image alternate text, meta title, and meta description.
Write again. This time the pillar page: You can do this step either here or before writing the cluster pages, it really depends on what works for you. The pillar page is an overview of the main topic and doesn't concentrate on the specifics. The reason some leave this for after writing the cluster pages is because it helps with ensuring that the pillar page doesn't contain duplicating points and it's harder to add internal links to specific pages subsequently. This brings us to the next step.
Inlinking between pillars and clusters: Yes, it's as simple as it sounds. Go back to each topic cluster and link them back to the appropriate pillar page. This helps Google index the clusters and strengthen the SEO of the entire pillar and cluster pages.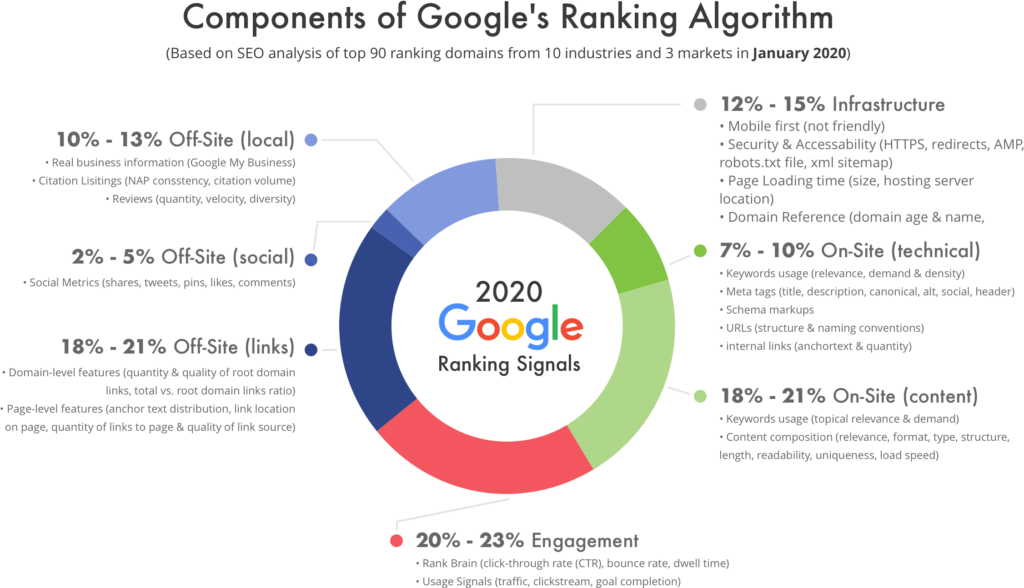 Pillar-Cluster Content Strategy and Rankings
Among other factors like domain authority, links and site speed – Google will rank websites by their content. Specifically, it ranks content by rating the content quality, depth, uniqueness and much more against the thousands of others that are out there. If Google finds it difficult to identify exactly what your website is about, then your ranking won't be great. This is where pillar-cluster content strategy comes into play. With each article on the cluster pages having backlinks to the pillar page, Google can better understand and organize them, and hence give your site a better rank.
Aligning sets of web content into topic clusters will help boost your SERP. (follow the link if you're like me and need a little help with what all these acronyms mean) And, of course grant visitors a much more user-friendly experience. SEO is constantly evolving and isn't always easy to understand or implement. If you have any questions or would like to learn more about how you can embrace it and start working on your pillar-cluster content marketing strategy – please feel free to reach out and talk with an Enabler.